great voice experiences
start here
We are experts in voice channel strategy, content creation, and systems integration. As an official Voicify partner agency, we can make the most of your investment in the platform by expediting your time to market and ensuring that your audiences have an experience worth talking about.
IT ALL STARTS WITH BEING A GOOD LISTENER
Think about the last time you had a great conversation. What made it great?
Chances are, the conversation you remember was both fluid and informative. You likely did more listening than talking. You didn't just wait your turn to speak. You listened well and added value to the dialogue. The mechanics of a good human-to-human conversation are no different when it comes to voice assistant technology. We want to use the queues and content of our audience to understand more than what they're asking. We want to understand WHY they're asking the question and make educated contextual guesses to deliver content that they may not know to ask for.
Our team focuses on the fluidity of dialogue to help your audience feel comfortable within the voice experience.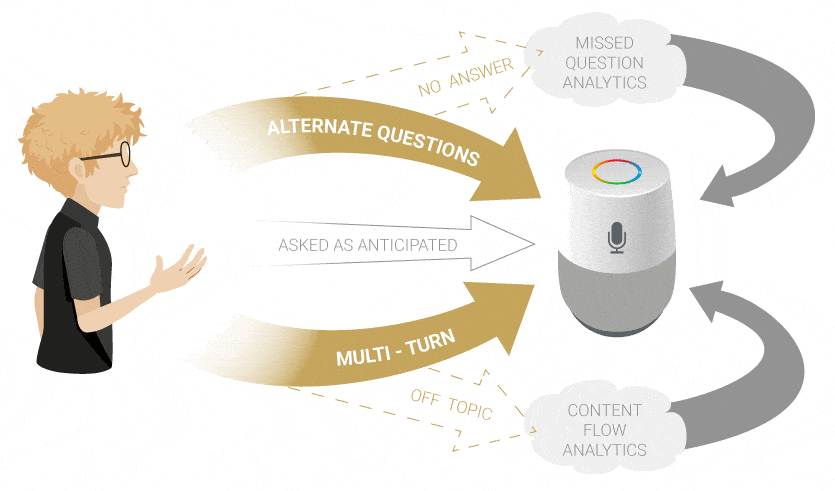 Trying to match answers against direct questions only addresses some of what a user will try. Appending answers with redirection and breaking content into multi-turn pieces will capture a broader range of the user's intent. Crafting alternate questions for the same content items will allow for a wider array of speech patterns and phrases. Collectively, these tactics keep users engaged within a fluid conversation instead of frustrated. Additionally, regularly analyzing questions your experience was unable to answer will allow you to expand and fine tune your content.
IF VOICIFY IS BUILT FOR MARKETERS,
WHY DO I NEED AN AGENCY?
We love that Voicify is easy to use! Our goal to have your team become so comfortable with the tool, that maintaining content is a streamlined and enjoyable task. In fact, we encourage our clients to play with the platform right "out of the box" to add spoken content, recorded clips, and images.
The value in working with an agency like Voice & Reason is to create a fluid, branded content experience on top of the platform. We help you get to market quickly and effectively by helping you select, optimize, and integrate content. After launch, we can also help you measure and refine user engagement to ensure you're getting the most out of your investment.
WHAT DOES THE PROCESS LOOK LIKE?
Our overall recommended approach for those new to the voice channel is to start slowly and expand based on data driven insights. The Voicify platform will tell us what we need to know about what our users are looking for. We need enough initial content to be good listeners. Then we'll make a consistent to add and improve content over time. Engagement with your voice assistant content is going to be much more successful if you think about it as an ongoing effort. If you hope to create something and walk away, the odds are unfortunately against you.
Here's an abbreviated description of the process we employ to get your voice experience created, tested, and launched on the Voicify platform.
CONDUCT AN AUDIENCE ANALYSIS
What can we learn about your users that will inform the creation of your voice content experience? Demographic and sociographic data about age and technical sophistication can be quite useful when it comes to anticipating what your users are likely to ask a voice assistant – and well as HOW they'll ask for content. Mapping our audiences will provide valuable insight into the types of questions, answers, and conversational paths most likely to create a positive experience
Meanwhile in Voicify: Get the system set up with accounts on major device platforms.
GATHER AND CULL EXISTING CONTENT FOR TOPICS AND ANSWERS
Chances are, much of the content your audience is looking for already exists within your organization. Between call center scripts, website content analytics, and editorial marketing content, we'll quickly have a ton of content items to start with. Cataloging this content and organizing into topics will help us group and prioritize assets. Then we can identify opportunities to create new content.
Regardless of the source, all of the content will need to be optimized for playback on the voice assistant platforms. Voice & Reason massages the content for playback quality, which can include the introduction of SSML for added linguistic nuance.
Meanwhile in Voicify: Have fun playing with temporary content to familiarize yourself with the platform.
FORMULATE QUESTIONS CONTENT
Based on the content "answers" we start with in your voice experience, we'll need to anticipate the "questions" that our audience will ask in seeking the content. Unlike the pre-existing nature of content responses, it's unlikely that your organization has well-formulated question pairings, optimized for the way your audience naturally speaks to a smart speaker. The Voice & Reason team will lean on our experience with user speech patterns to craft varying phrases that users may try when intending to find specific content.
Meanwhile in Voicify: Use placeholder content to apprise other stakeholders in your organization and build support for deployment.
INTEGRATE WITH OTHER CONTENT SYSTEMS
Voicify is very powerful in its ability to connect with third party content management systems. For instance, if you have a customer login on your website or repository of how-to videos, it's possible to connect to Voicify for smart speakers without having to duplicate that content. Voice & Reason can help you evaluate, plan, and execute these systems integrations. This can be done from day one, or as a secondary phase after measuring platform engagement.
Meanwhile in Voicify: Conduct either informal or scripted formal tests of the content using smart speakers connected to developer accounts.
Writing for smart speakers is much like writing for television, plays, podcasts, or any spoken presentation. What looks good on paper may not sound natural within the experience. By the same token, questions we use to trigger content responses may feel forced or out of context when following previous interactions.
While platforms like Google use AI to apply synonyms and sort out differences in tense, the technology can still be finicky and some content will be difficult to access.
Meanwhile in Voicify: Get the system set up with accounts on major device platforms.
LISTEN TO DATA AND ADD CONTENT
Your voice experience will only be successful if your audience is able to find meaningful content – and find it easily. Examining data on the most requested content, including requests for which we weren't able to pair a response, will guide the ongoing creation of content and refinement of existing content.
Voice & Reason can help by monitoring usage of the platform and routinely making adjustments. Combined with the ongoing addition of new content, this support process can be a collaborative effort where your team works toward self sufficiency.
Meanwhile in Voicify: Monitor analytics data and continue improving content.
One of our large voice assistant projects is nearing completion. This summer, SMUD customers will be able to asking their smart speaker how to get ready for an electric vehicle, what Time-of-Day rates are all about, or where to go to quickly pay a bill.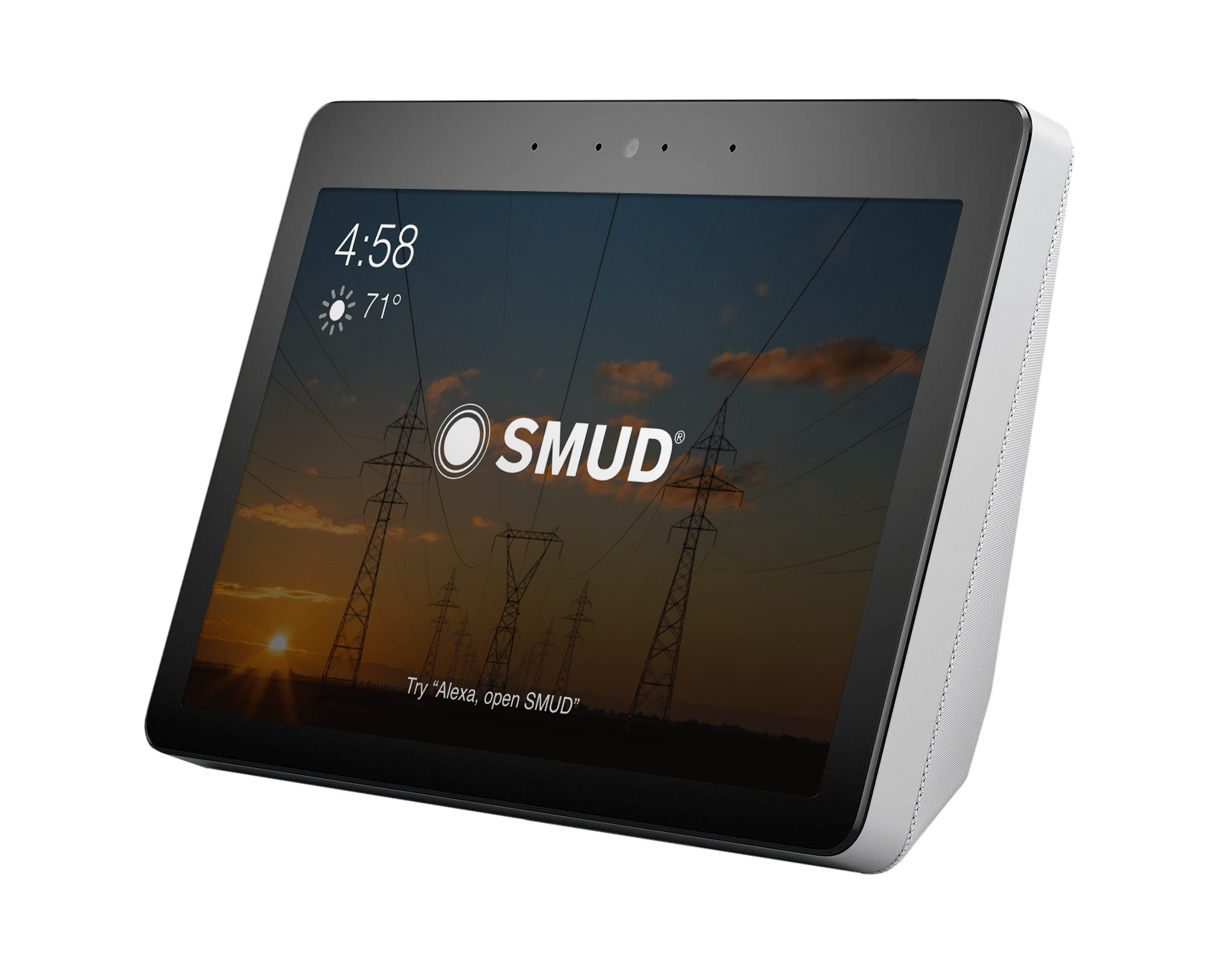 Get Started With One Click.
What do I need to do in order to be ready? How long does a voice experience project typically take? How much does something like this cost?
Headquartered in Sacramento, CA servicing clients across the United States. We create connected, consistent marketing systems across print, digital and voice platforms.
Copyright © 2019 Voice & Reason, LLC. All rights reserved.
3 Tough questions to ask a digital agency
The hidden costs of web development
Voicify – voice experience platform