After successfully completing Delta Zero™ product branding for Eagle Protect, Voice & Reason was asked to design and develop a complete product website structured to maximize meaningful engagement with priority personas from target industry segments.
2023 Web Excellence Award Winner
Corporate & B2B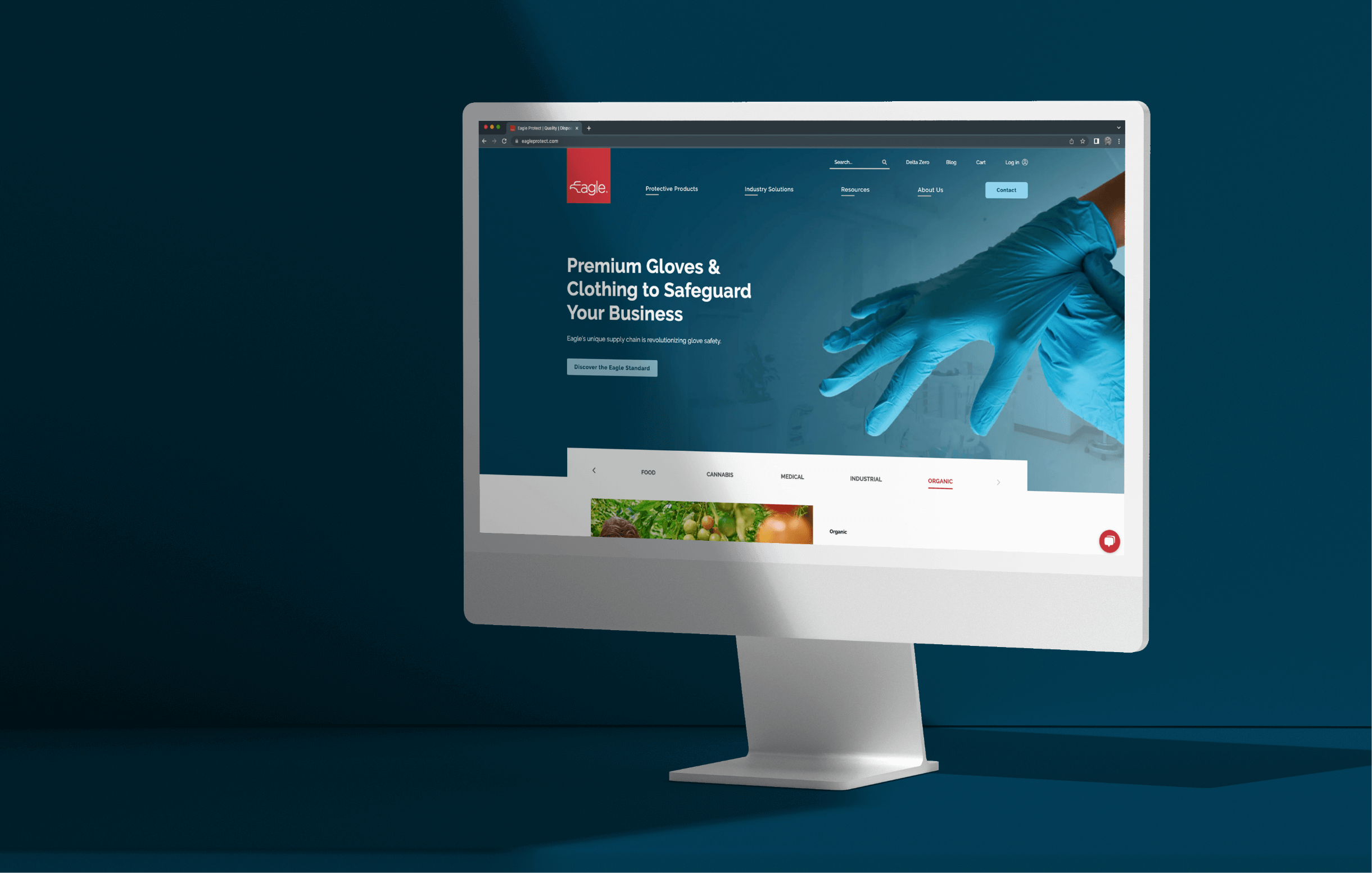 Founded in New Zealand, Eagle Protect is an established disposable glove and clothing supplier with a rapid growth trajectory in the United States and aggressive expansion into a wide range of industries. Eagle supplies high-quality products for specialized applications, including food preparation, cannabis production, organic standards compliance, and health-related uses, such as veterinary and dentistry examinations.
Immersed in a field dominated by price, Eagle is driven by a different purpose: to safeguard the world with integrity. From their proprietary glove testing program to its exemplary B Corp. certification, how they do business is as important as what they do.
Beyond providing superior products and service, Eagle is dedicated to ethical sourcing, traceable supply chain, and environmental impact reduction.
Eagle Protect was looking for far more than a visual facelift for their USA website. Their vision was a responsive, informative user experience involving comprehensive architecture restructuring supported by custom development solutions.
While based on a Shopify retail environment, the primary goal for Eagle's website was not individual online orders. The goal was intuitive delivery of tailored, industry-specific content encouraging direct, personal contact with larger organization representatives, instead of a "shop now" focus for smaller purchases.
Primary objectives included:
Improve user experience
Increase inbound leads
Improve SEO performance
Modern technology that allows for efficient content updates
Modern visual design
Data security
To achieve an intuitive, educational experience tailored to specific industry types, Voice & Reason created custom solutions that work seamlessly within Shopify, a widely used retail platform that doesn't offer out-of-box personalization.
Our proprietary user score system continuously improves the content curated for individual visitors, including recommendations for additional information. The more they engage, the more accurately the system anticipates what they need. This level of customization is typically only within reach for Fortune 500 companies with massive budgets.
Extensive product and blog content was consolidated within a singular ecosystem to allow for efficient updates. We provided Eagle staff with the tools and training necessary to make ongoing content changes quickly and independently. Despite such extensive content customization, Eagle's branding and core messaging is maintained throughout the website, refined by nuances and texture guided by function. Technical details lean into clean, straightforward, more formal delivery. Cultural personality rises to the surface with descriptions of the company mission and culture, subtly communicating the company's New Zealand roots, unrelenting quality standards, and commitment to environmental sustainability.
Eagle Protect was thrilled with the end result: an extensive, elegant website that is as functional and effective
as it is beautiful.
The product catalog is powered by Voice & Reason's proprietary user score system designed to work seamlessly within Shopify to provide an optimal user experience.